RAVENSWOOD – Neighbors are organizing a block captain program in response to gun thefts and shootings in and around Ravenswood.
Residents have been part of a group discussion where they keep each other informed and ask each other questions about what is going on. Talks started on Monday, when police were chasing the neighborhood. Now, they want more than just talking about news through text.
The police said that the people they were chasing were suspected to be armed; the driver crashed into a city truck. Four men were arrested after the fire accident, police said.
The neighborhood also saw two shootings Wednesday night: Two brothers, 17 and 20, were killed in an alley, and a 15-year-old boy was wounded in a separate shooting.
Neighbors waiting for news then turned to group chats to find out what was happening. Some shared unconfirmed news, others asked what was going on, said Laine Rivas, a member of the Ravenswood Neighbors Association.
Rivas said officials should have informed neighbors more about what was going on.
"To me, it boils down to a lack of communication," Rivas said. "I know you can't just say something that offends people. But something needs to go out like an amber warning or something that says, 'There's a police operation; please stay inside.'
Now, Rivas and other members of the organization are working to organize a block captain program, he said.
The block captain will reach out to official sources, such as local police leaders and alderpersons. Neighbors can go to the block captain for updates and to share what's going on during riots like rush hour Mondays, Rivas said.
The block captain will also coordinate with neighbors to make formal reports to 311 about issues such as a street light going out.
"This is our community. Our children walk in this area," said Rivas. "We really care about everyone's safety."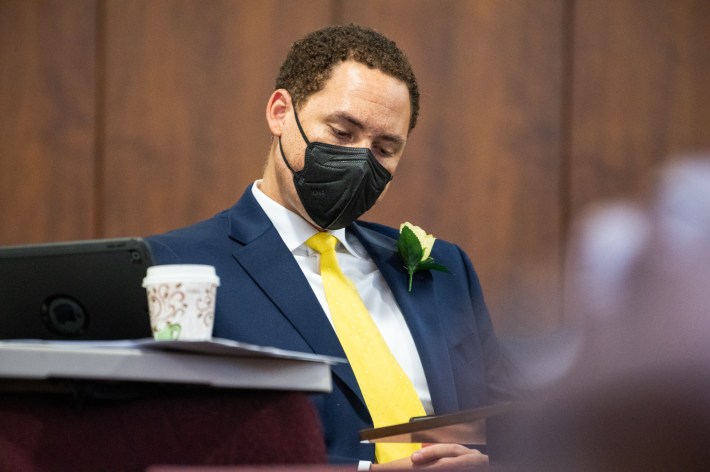 Ald. Matt Martin (47th) said the community needs to come together to deal with crime, and he thanked neighbors for organizing, talking to each other and sharing footage to investigate with investigators when a crime occurs.
"This is disturbing. It's sad, and it's scary. "The fact that on Monday, you had a lot of robberies early in the morning, as well as in the middle of the morning … it's something we don't often see and it was scary," said Martin. "I believe that [police] they responded as quickly as they did and that no one was physically harmed."
Martin said he is talking to police about where they are distributing resources to the community after Wednesday's shooting.
"I will continue to talk to the neighbors throughout the day and after the disaster happened. … These were brother and sister, seventeen years old and twenty years old, and my understanding is that their family lives in this area. It's a really bad situation," said Martin.
Martin's also reached out to the Cook County State's Attorney's Office and the Cook County Sheriff's Office to make sure they know what happened this week, he said.
In addition, Martin is in discussions with anti-violence organizations such as the Alliance of Local Service Organizations and ONE Northside to highlight the latest shooting to understand why it happened and try to prevent future violence, he said.
"At the end of the day, we don't solve these issues quickly and effectively if we work in silos," Martin said. "We need to connect in real time and share this information with citizens."
Listen to "It's All Good: A Block Club Chicago Podcast":