A dog named Wynonna has touched hearts on the internet after a video of her cheering up a McDonald's employee, who was having a bad day, went viral on social media.
The video, shared on TikTok on Saturday by the dog's owner, under the username Maceon.mccracken, shows the doodle and its owner driving to McDonald's to see Wynonna's favorite employee, who said she had a "very rough day."
When an owner from Charlotte, North Carolina, explained to a McDonald's worker in Huntersville that they just came to see them because their dog loves them so much, they thanked them and gave them treats, saying that "seeing him makes you feel good. I'm happy."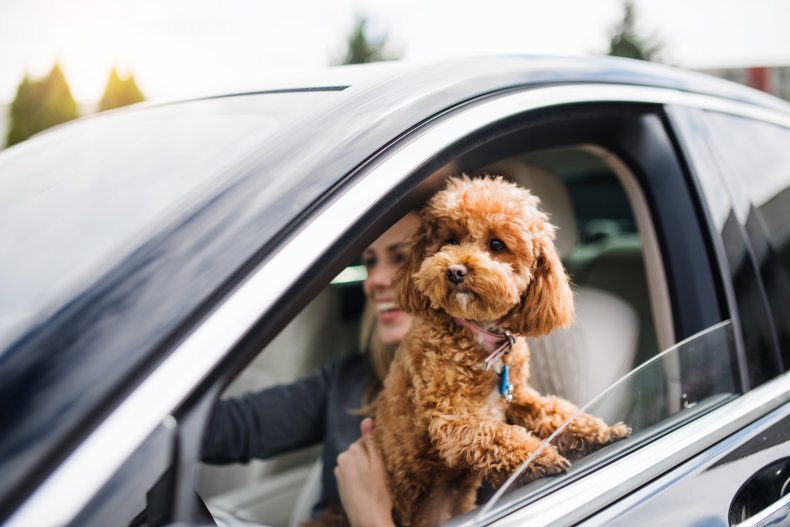 The post comes with the caption: "That's why it's so important to be kind to everyone. You never know what people are going through or what kind of day they're having. This McDonald's employee brings his goodies, donate and stay happy. It broke my heart to see them sad today. I'm happy that Wynonna can brighten their day a little bit."
According to research, it's actually true that dogs have the power to make you feel better! According to Science.org, when dogs gaze into our eyes, they activate the same hormonal response we associate with human infants.
Scientists at Azabu University in Sagamihara, Japan, asked dog owners and wolf owners to play with their pets in a room for 30 minutes, and blink every now and then, to measure the levels of oxytocin in their system afterwards.
At the end of the study, the researchers found that owner-dog duos who spent more time gazing into each other's eyes had increased oxytocin levels by about 300 percent and 130 percent, respectively, while dog owner duos spent more time making eye contact. less time to watch. The owners and the wolves did not grow at all; actually the wolves tried to avoid eye contact.
The video quickly attracted animal lovers from across the platform, garnering over 4 million views and 829,700 likes to date.
Another user, Anacardenas1499, suggested: "Can we sponsor a McDonald's employee and surprise him with holiday money? Maybe you're behind? [on] debts."
And the owner of the dog took this advice and launched a crowdfunding that since Sunday has reached more than $ 1,000, to surprise a McDonald's employee.
Another user, Icrazitraci, said: "I felt his pain, as someone who has bad days I hope this will help him with everything he is going through. [please] send an update."
Sarah wrote: "Imagine you're in tears at work and someone comes up with a dog saying 'hey, I brought my dog ​​here to see you'" And axiology_beauty added: "I'm not crying you're crying."
Kay said: "I don't understand how dogs are happy to make ppl in the drive-thru, they see so many unkind faces, when dogs are never unkind." Traderjolene added: "This is so much fun."
Newsweek has contacted Maceon.mccracken for comment. We could not confirm the details of the case.
Do you have funny and cute videos or pictures of your pet that you want to share? Send them to life@newsweek.com with some details about your best friend and it can appear in our Pet of the Week list.