A German shepherd named Angus has melted hearts online after a video of him trying to force a friendship with two cats went viral on social media.
In a video shared on TikTok on Wednesday by the dog's owner, under the username Angusyounggsd, the German shepherd can be seen trying to get close to two cats on a bed, but the monkeys look at him suspiciously, before rejecting his friendship.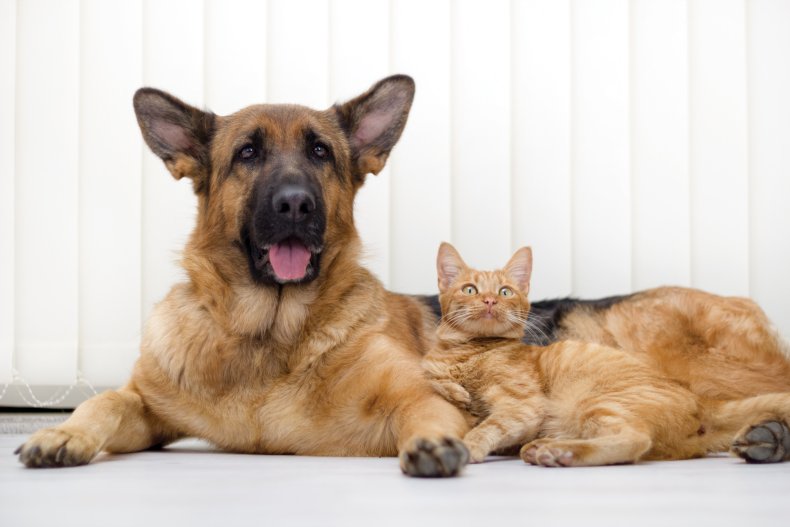 The cute clip comes with a descriptive caption: "When you just want to be friends with cats."
Even though movies and cartoons often portray cats and dogs as each other's worst enemies, it turns out that they can be very good friends.
A study by Italian scientists, published in the journal PLoS ONEwhich asked more than 1,270 pet owners who own a cat and a dog, or several of them or both, to prove that the two species can coexist easily without major conflict.
According to the study, more than 64 percent of cats and dogs living together played together; 58 percent chased, and 41 percent fought. About two-thirds of pets sometimes playfully "guard" others.
You won't be surprised to learn that cats are more likely to ignore dogs than vice versa, with 42 percent of cats ignoring canines, and only 28 percent of dogs avoiding cats. Cats are more likely to attack dogs than vice versa.
About 58 percent of cats and dogs sleep next to each other at least sometimes. In 11 percent of cases, they always slept together, their owners said.
The video quickly attracted animal lovers from all over TikTok, garnering over 4.1 million views and 956,200 likes to date.
One TikToker, Beautiful Chaos, commented: "That's why you can't live with us." And Kimmy wrote: "my german shepherd cries nonstop every time he sees our cat bc he wants to be friends so bad." Tess added: "The scratching makes the cat bounce."
Tijana J wrote: "lmao the last scene looks like it's from The Office," while Hanna Callahan wrote: "How she wants to be their friend and they're so annoyed by her presence."
Another TikToker, Zoie Johnson, commented: "Very accurate representation of introverts and extroverts." And Miella added: "The cat is very judgmental."
Lil.Shazza revealed: "He had the guts to say 'I'm gonna be a little spoon.' And Anitta DeMoor wrote: "Now I understand why cats avoid being friends with dogs … just .. a lot."
Newsweek reached out to Angusyounggsd for comment. We could not confirm the details of the case.
Do you have funny and cute videos or pictures of your pet that you want to share? Send them to life@newsweek.com for more information about your best friend and it can appear in our Pet of the Week list.